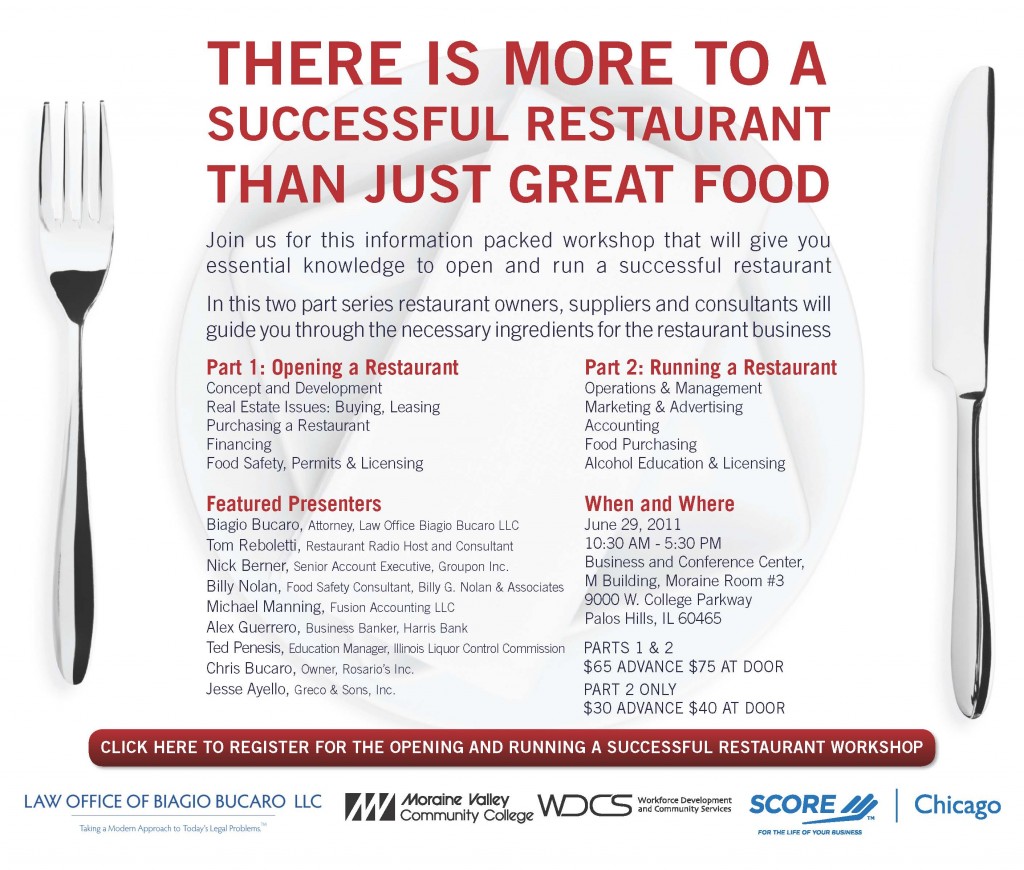 There will be the second workshop presented by the Law Office of Biagio Bucaro LLC in conjunction with Score Chicago & Moraine Valley College.  The date of the event in June 29, 2011 between 10:30 to 5:30.
Outline of the Topics
Part 1: Opening a Restaurant 10:30AM-1:30PM
Concept Development
Real Estate Issues: Buying, Leasing
Purchasing a Restaurant
Financing
Food Safety, Permits & Licensing
Lunch Break for all day attendees 1:30-2:00
Part 2: Running a Restaurant 2:PM-5:30PM
Operations and Management
Marketing & Advertising
Accounting
Food Purchasing
Alcohol Education & Licensing
Speakers
Biagio Bucaro, Attorney, LAW OFFICE OF BIAGIO BUCARO LLC
Tom Reboletti, Restaurant Radio Host, Restaurant and Business Consultant
Lee Roupas, Education Manger, Illinois Liquor Control Commission
Nick Berner, Senior Account Executive, Groupon Inc.
Billy Nolan, Food Safety Consultant, Billy G. Nolen & Associates
Michael Manning, Fusion Accounting LLC
Alex Guerrero, Business Banker, Harris Bank
Chris Bucaro, Owner, Rosario's Inc
Jesse Ayello, Sysco
Location
Moraine Valley Community College
Business and Conference Center
M Building, Moraine Room #3/ 9000 W. College Pkwy
Palos Hills,, IL  (Map)
Click here to register for the Event
Comments are closed.